Let the mourning period begin. I put the little guy through a lot, but I'm still annoyed and disappointed that it only lasted three years.
Beginnings and Upgrades
Out of the box I was more or less satisfied with the performance of the planer, but as time wore on my patience wore thin. Nicks in the straight knives resulted in horrible surfaces, and I didn't relish dropping $50 every few months when another blade got nicked by a knot or wayward staple.
I ended up swapping out the straight knives for a Shelix helical cutterhead. The improvements were immediate and I loved it, but I majorly voided any warranty by destroying the factory bushings knocking the original planer head out. Things worked well after that for more than a year of heavy usage, and I ended up adding an aftermarket digital thickness gauge early last year to get more consistent thicknesses.
Giving Up The Ghost
Over the last six months I've had a considerable amount of trouble with the planer. It kept burning belts up and I couldn't figure out why. In preparation for the new workbench build, wherein I'd have to plane more than 100 bd ft of southern yellow pine, I really sat down to try to figure out the problem.
The V-belts on the DeWalt planers are made of a hard, thick plastic. I bought a two-pack of factory ones and it ate one of them immediately. I bought some aftermarket ones as well, and it ate one of those immediately as well.
Then I considered that maybe the problem wasn't the belt, but the main pulley attached to the planer head. I took it off and guessed that maybe it was unbalanced, causing uneven rotation which was pulling the belt off the pulley into the drive chain and shredding it. After buying and installing a brand-new pulley, however, I was rewarded with another shredded belt. My new diagnosis is, unfortunately that there is something wrong with the planer head itself, and it's become so unbalanced that no pulleys or belts will fix it. I've modded it so much that there are no relevant and helpful threads online on how to fix it.
The new plan is to buy an inexpensive benchtop planer for the time being (looking at this Porter-Cable unit) while I decide whether to stretch and get the Powermatic unit I've been drolling over for awhile. I think I'll keep the 735 around just to be able to completely disassemble it and see if I can eventually fix it. In the meantime, though, I have shit that needs to be planed.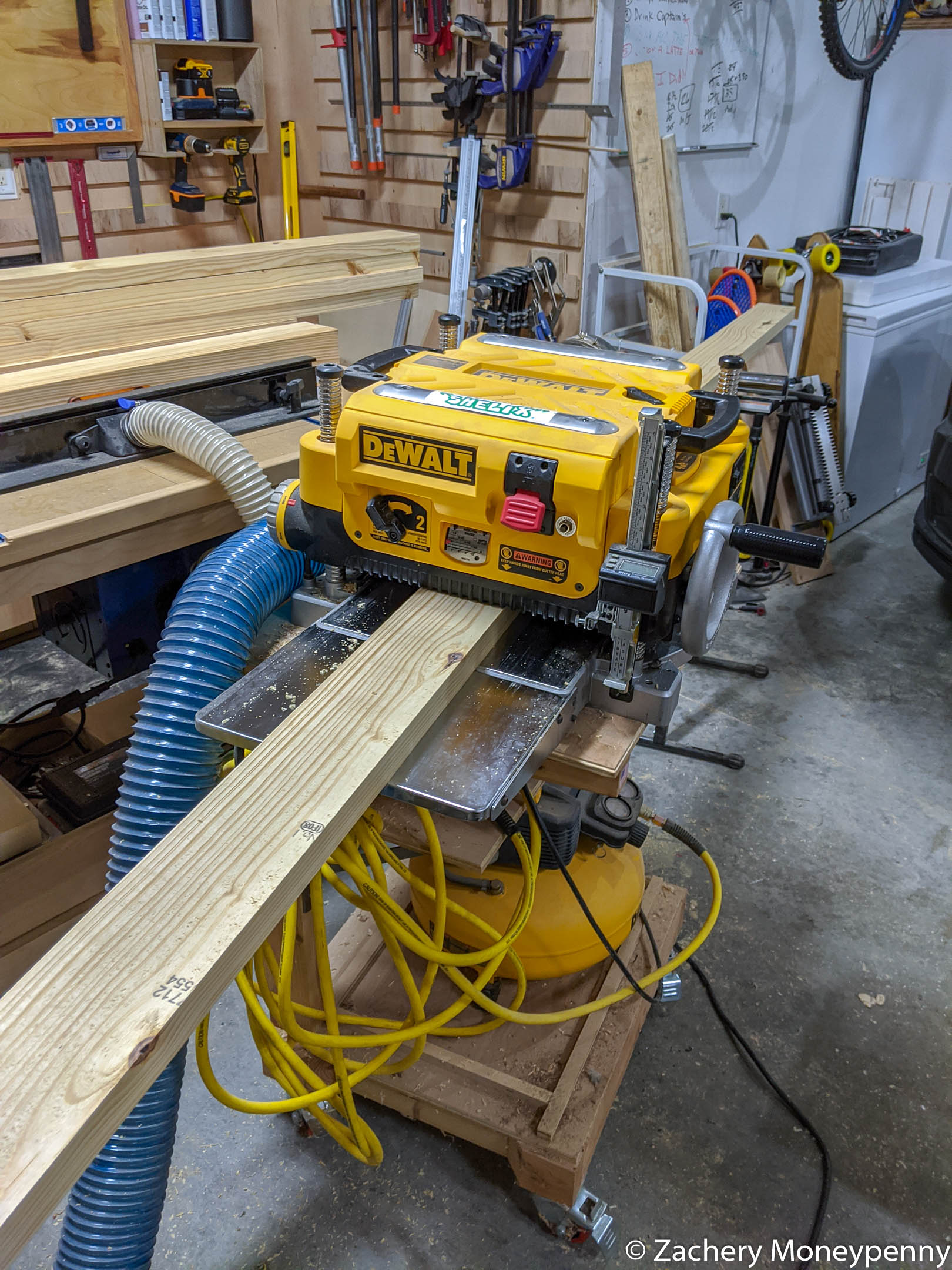 Moments before it died for good...