Adirondack chair progress and the new Shaper Origin.
Shaper Origin
I've been wanting a CNC setup for awhile now, but I've held off for two reasons: cost and space. Cost is something I could reasonably overcome, in time, but there is simply nowhere left in my shop for a CNC with even a modest footprint. However, in the spring a bunch of YouTube makers published videos exploring the Shaper Origin and I became very interested.
The idea is a handheld CNC that uses computer vision to map and maintain the machine's orientation with respect to the workpiece. I had a bunch of upcoming projects where it would complement perfectly, so I convinced my wife to let me spend the money to pick one up.
I've now had it for several weeks and have to say I love it with very few resignations. Thus far I've mostly been cutting cleat projects for my french cleat wall. It's nice to get acquainted not only with how the tool works, but also the design side of the process too (see below for more on that).
Maybe I'll put together a more comprehensive review post in the future, but for now I'm still putting it through the paces. Once I have a few more reps with it on hardwoods I think I'll have a more complete set of thoughts, as until now I've used it almost exclusively on plywood.
Up-to-Speed in Illustrator
In conjunction with starting using the Shaper, I've bit the bullet and expanded my Adobe subscription from the Photography plan to the full Creative Cloud plan. They had an upgrade sale that gave me the full suite for $29/mo for the first year so I jumped at it. I primarily wanted Illustrator (I already use Photoshop and Lightroom to manage my DSLR workflow) to do SVG-based designs for the Shaper.
It's been a few weeks with Illustrator and I'm definitely learning! I've designed a few of the cleat projects I'm testing the Shaper on in the shop, and I'm even thinking about uploading a few of them to Shaper Hub, where users can open source their designs for other users to download and use.
Example SVG that can be imported to the Shaper. This is a cell phone holder to hang on a french cleat.
Customized Charcuterie Board
For my mother-in-law's birthday my wife and I planned on making a medium-sized charcuterie board. Now that I have the Shaper, though, I thought it would be neat to whip up a design to carve into the surface. I went back and forth between cutting negative shapes out of a light wood to fit in the groove, or using a tinted epoxy to fill it. Ended up going with the epoxy because I was running out of time, and it did turn out great!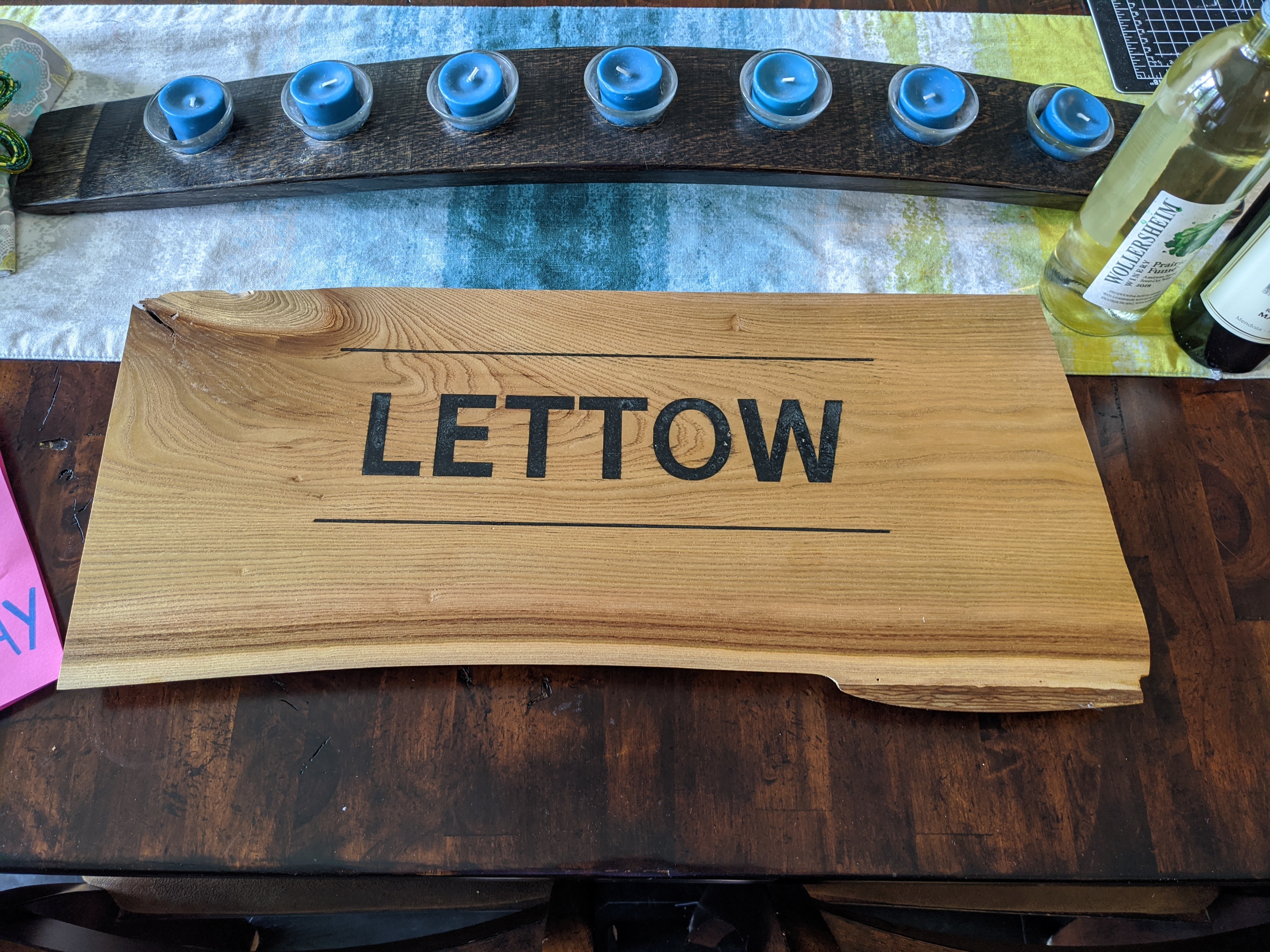 Charcuterie board with epoxy-filled engraving
Adiorondack Chairs
Since I received the Shaper I've stalled a bit on the chairs, but I was making hot progress before that. They're definitely past halfway, and I really just need to knuckle down and finish the build so that I can move on to sanding and finish. There's a chance these damn things can be done before the end of summer and I'll actually be able to sit in one!