Adirondack chairs are finished, along with a bunch of other projects. I've been quiet on the posting front since summer, but still completing my goals. Let's round-up all the great stuff coming out of the woodshop lately.
Adirondack Chairs
Roughly 18 months after starting the Adirondack Chair project, I finished up both chairs August 9th. Ended up doing 8 coats of finish, using a CPES product to seal the wood against the elements and then numerous coats of Epiphanes glossy and then matte to build up a durable film finish.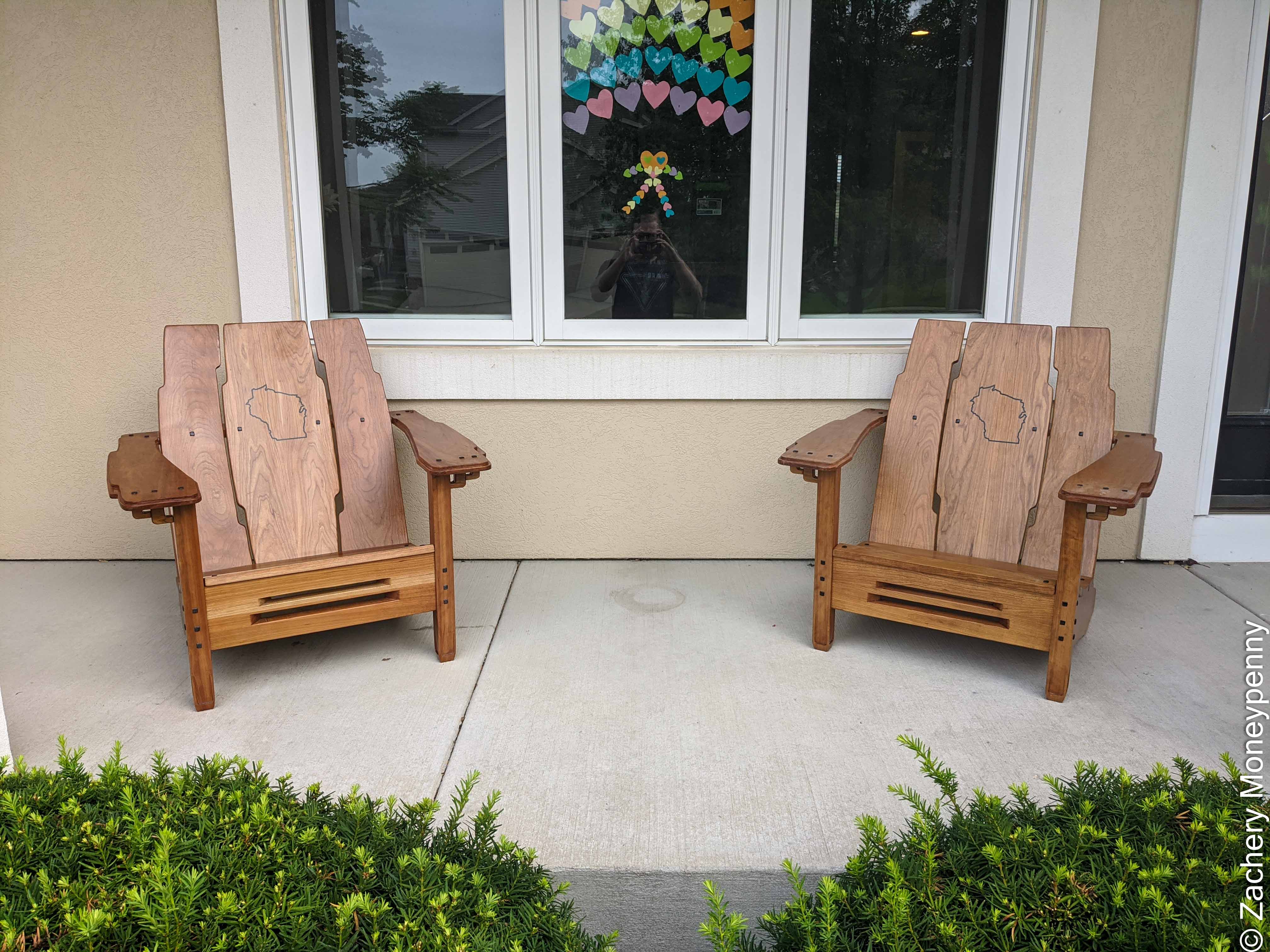 Both chairs in their final placement on the front porch
As the summer drew to a close, it felt so good to be able to sit out on the front porch and drink coffee or read a book. Unfortunately, those chairs look awfuly lonely out there with that big space in-between them. I reckon they need a table to go there- perhaps an idea for next summer.
I also took a great big chance in using the Shaper Origin to inlay the epoxy Wisconsin outline into the backs, but I'm incredibly pleased with the result. It adds a customized look that makes them one-of-a-kind.
70th Birthday Gift
One of the reasons I was allowed to purchase the Shaper Origin is because I had an idea to do something along with my wife for my mother-in-law's 70th birthday in July. My wife wanted to make a poster idea she'd seen on Pinterest, something similar to…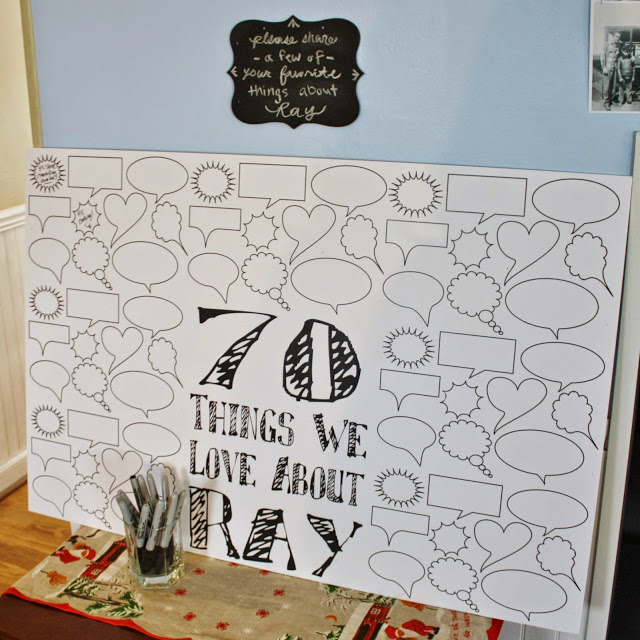 An inspiration for the birthday gift, courtesy of Google
The idea was to take that concept and make it a little more… permanent. My idea was to cut out pieces of basswood in the shape of speech bubbles, and then inlay them into a walnut plywood "canvas". My wife would solicit messages from family and friends and write them onto the bubbles, then we'd affix them and seal the whole thing with polyurethane.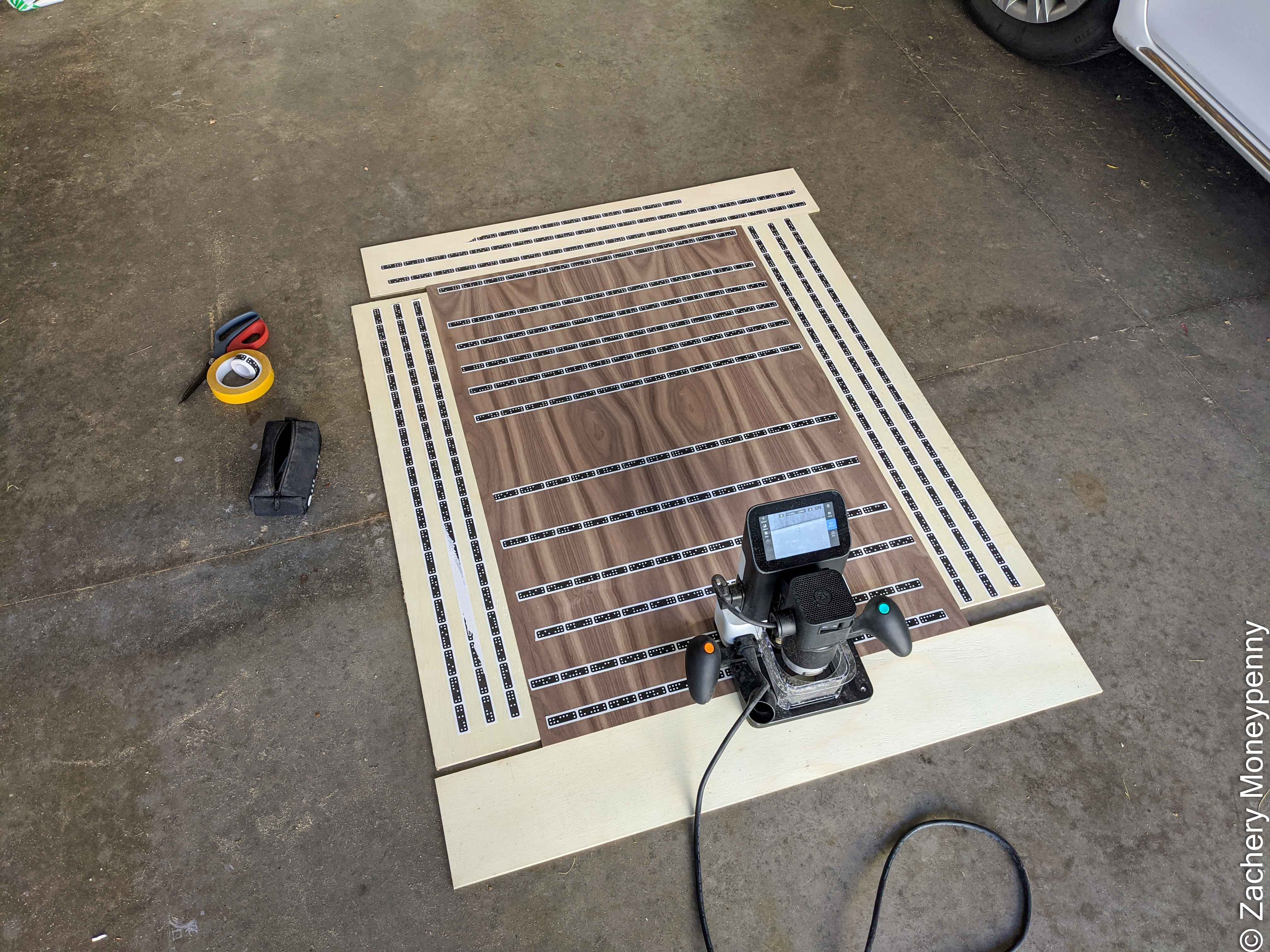 The floor-sized jig to route such a large piece
The setup was considerable, and it ended up taking two days just to cut the pieces. For the large backing board I had to lay flat on my stomach on the garage floor for hours. This is one area where the Shaper Origin made it possible to make something truly unique and neat, but I would have much prefered to be able to load the plywood into a real CNC bed and not cramp my lower back for hours and hours.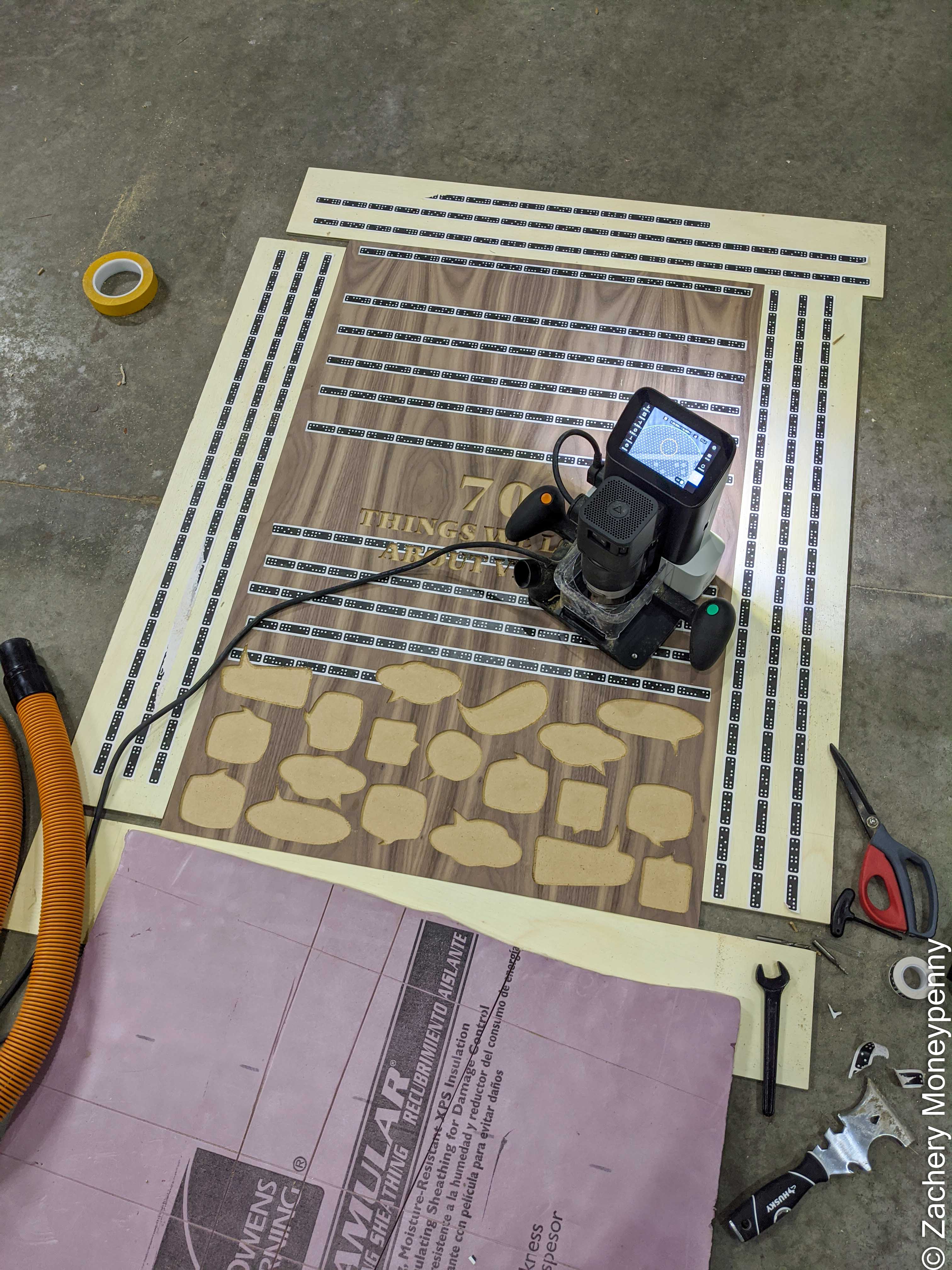 A little less than halfway done cutting the negative space in the backing board
Stacy did an incredible job putting paint pen to the individual bubbles to make the sincere messages of love and support pop. Once finished the look was incredible, and it was a delight to see my mother-in-law preesented with the gift over Zoom.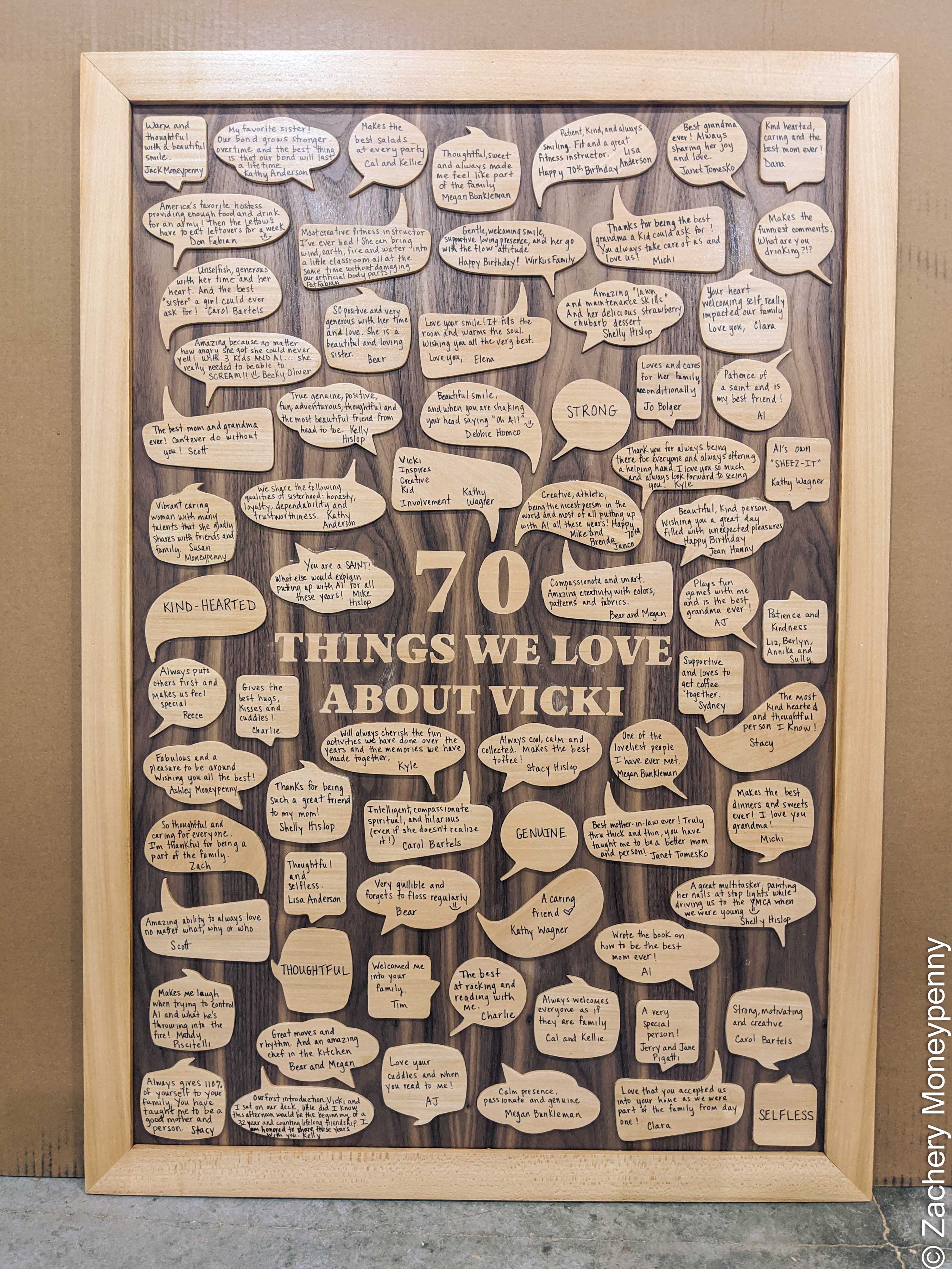 The final result, just before presentation
Zacco Board
My neighbors and I played a lot of golf this summer, and I was urged by the neighborhood to create a yard game we could play at cookouts and such. I took some inspiration from the Chippo game and whipped up a quick board so we could set it up in driveways and play.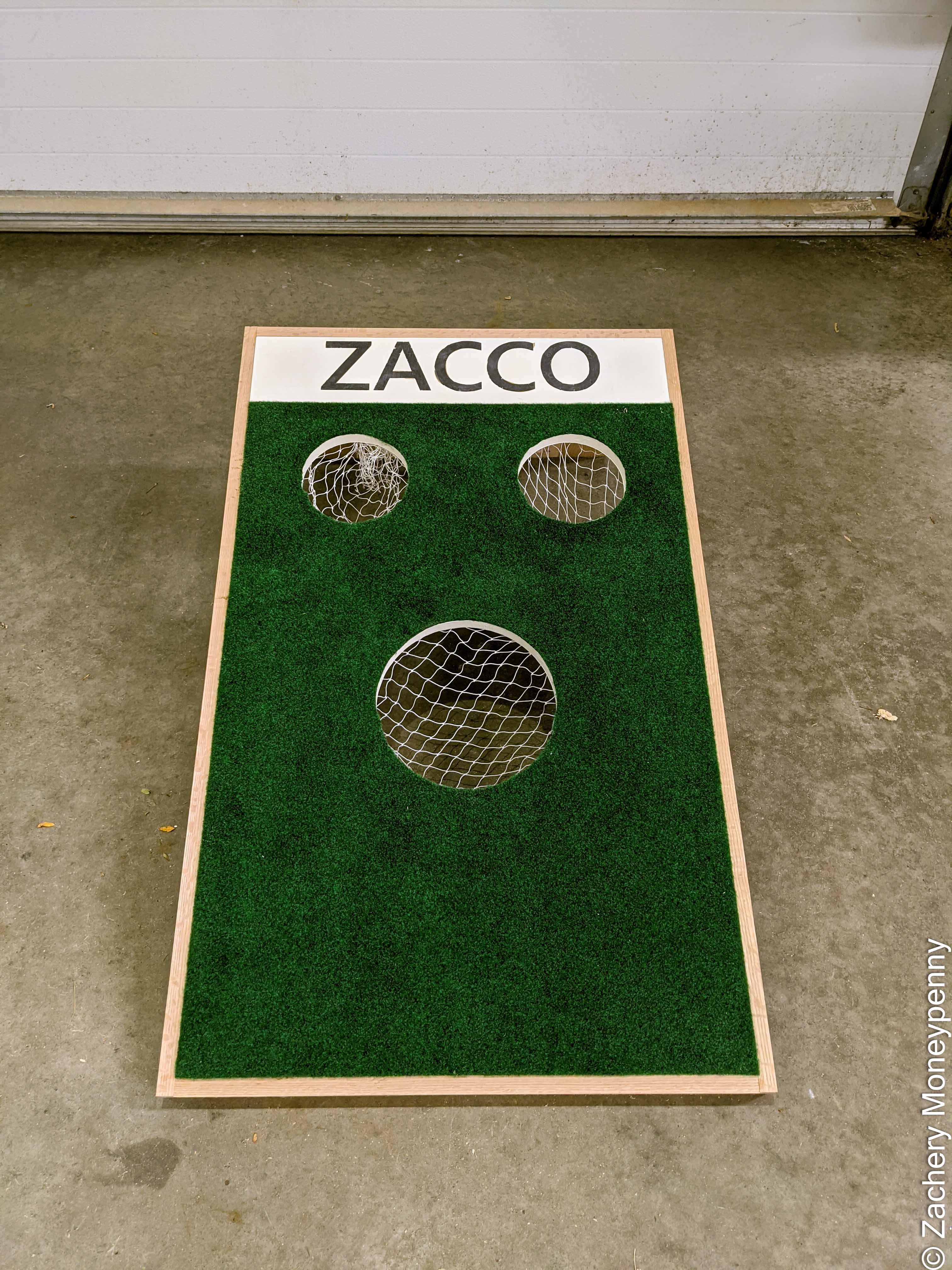 The completed Zacco game board
I bought a little hitting mat and a dozen foam golf balls from Amazon and we were off and running!
Peloton Board
Peloton is quite a popular thing in our neighborhood as well; many folks have one and we're actually looking forward to the delivery of ours in February.
One neighbor wanted a board with hooks and a shelf to hang near their bike, so they could hang shoes and towels on it. I came into some nice white oak from a neighbor re-doing the windows in their house this sumnmer, so I had materials on hand. One weekend later and I presented them with a nice gift.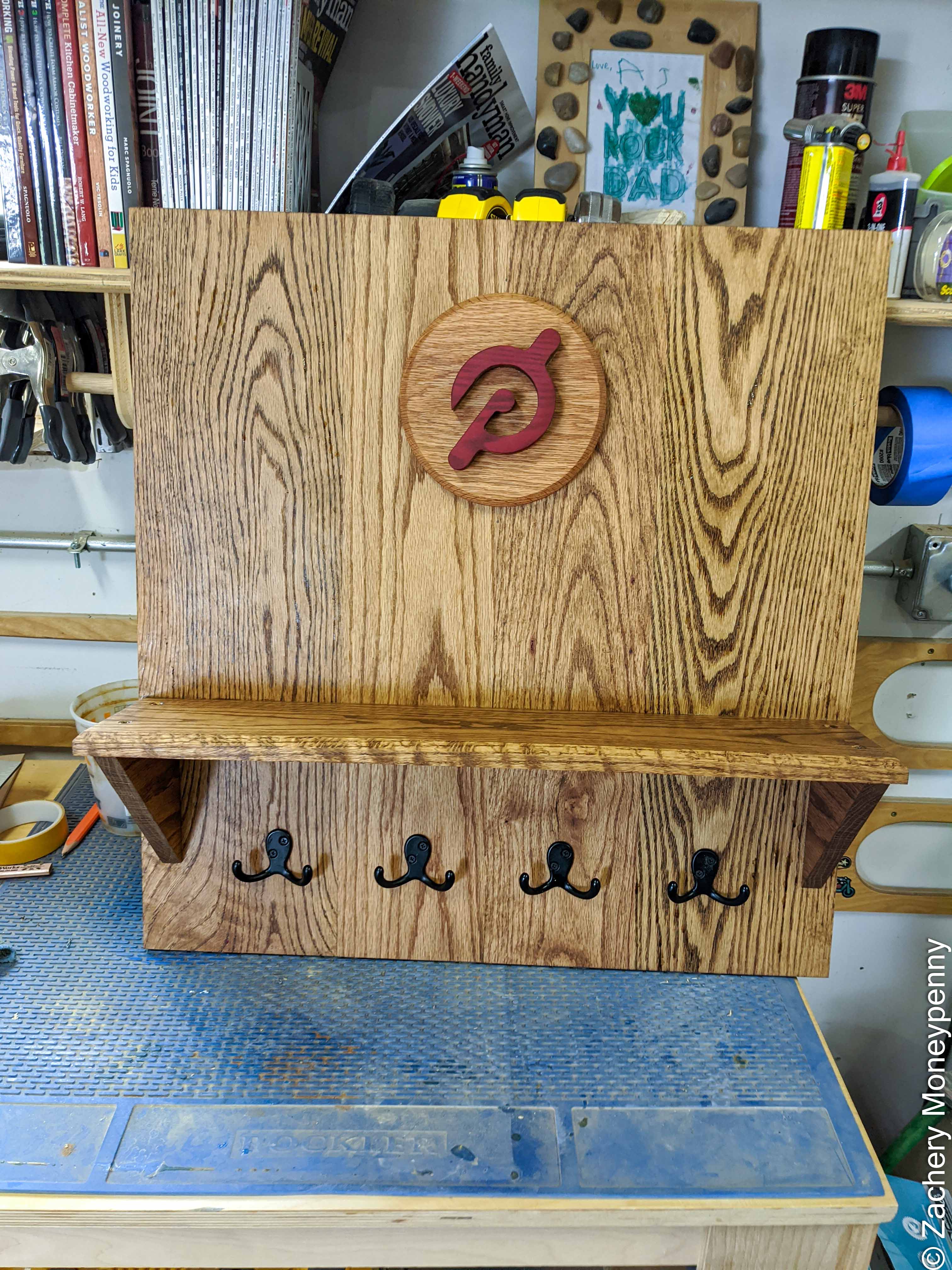 Includes a Peloton logo courtesy of the Shaper Origin
Again and again, I'm amazed at the fantastic accents I can add to a piece using the Shaper Origin. I was afraid when I bought it that I wouldn't use it enough to justify the price tag but whether small or large I always find ways it can enhance a project.
Xmas Boxes
This one isn't finished yet, and I'll follow up with another post once it is complete, but my wife wanted decorations for the front yard inspired by some ideas she'd seen on Pinterest.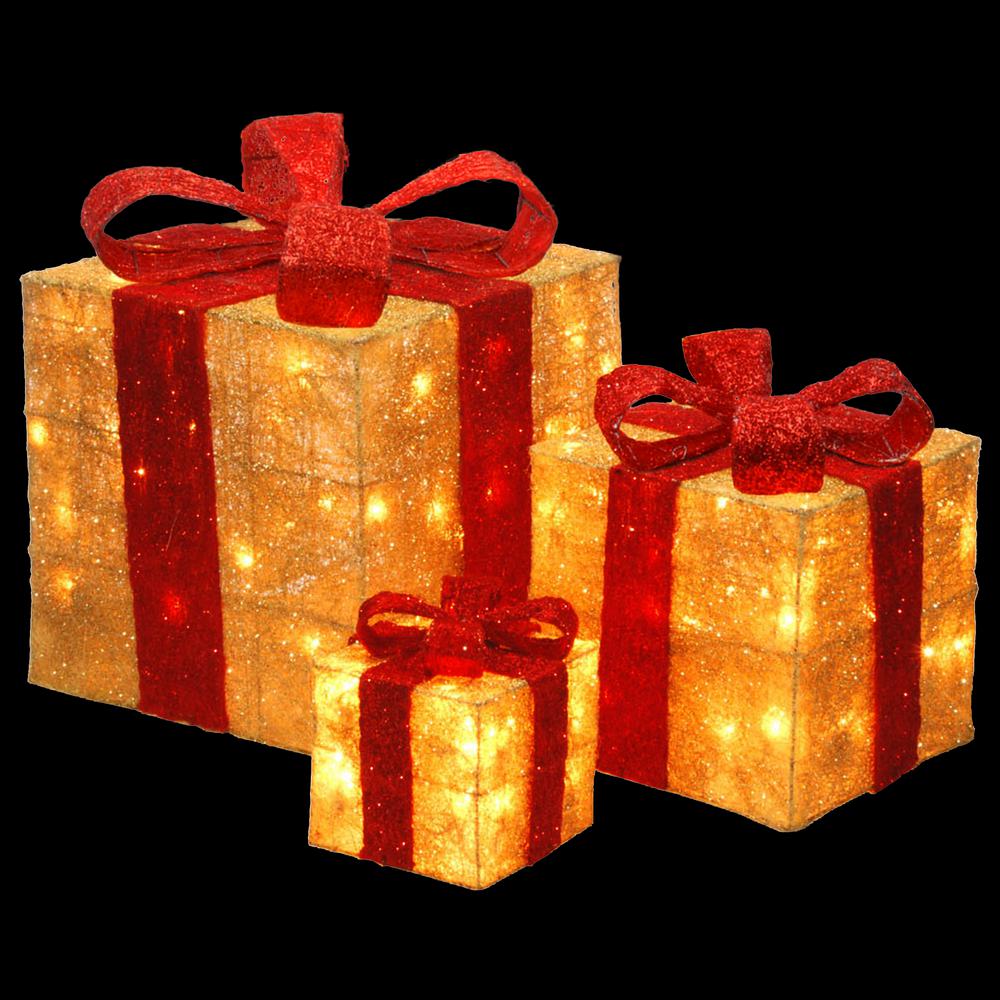 The inspiration, as taken from Google
Doing 3-way corner joinery was the only challenging part of the build, and again the Shaper Origin was instrumental in easing the work to cut relief mortises in the ends of the wooden edges so that I could lay down each corner.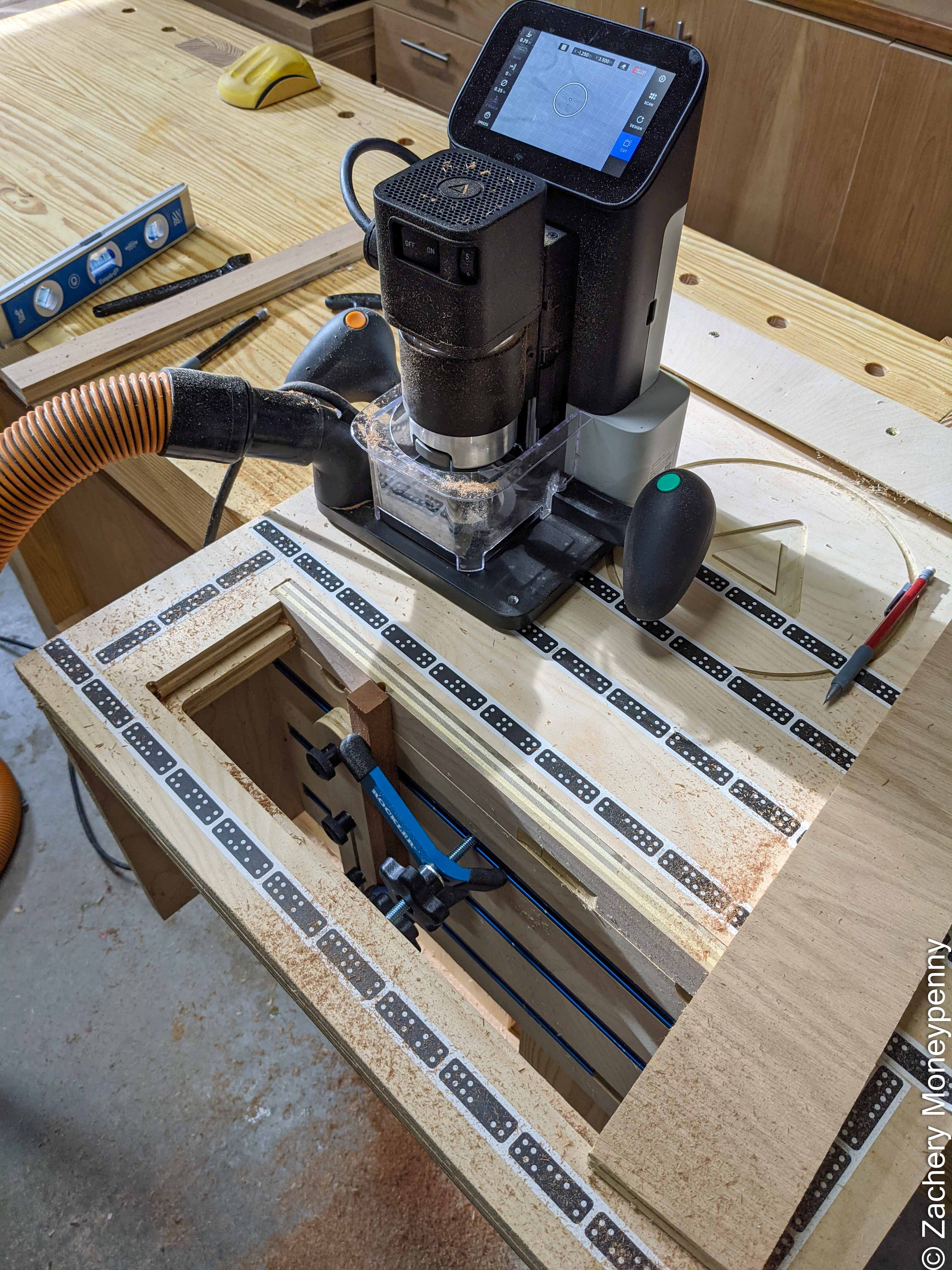 Using the Shaper Origin with the vertical workstation I built
They came out very clean, and the other mating parts of the joints were easily cut with the table saw and my dado stack configured for a 1/4" width.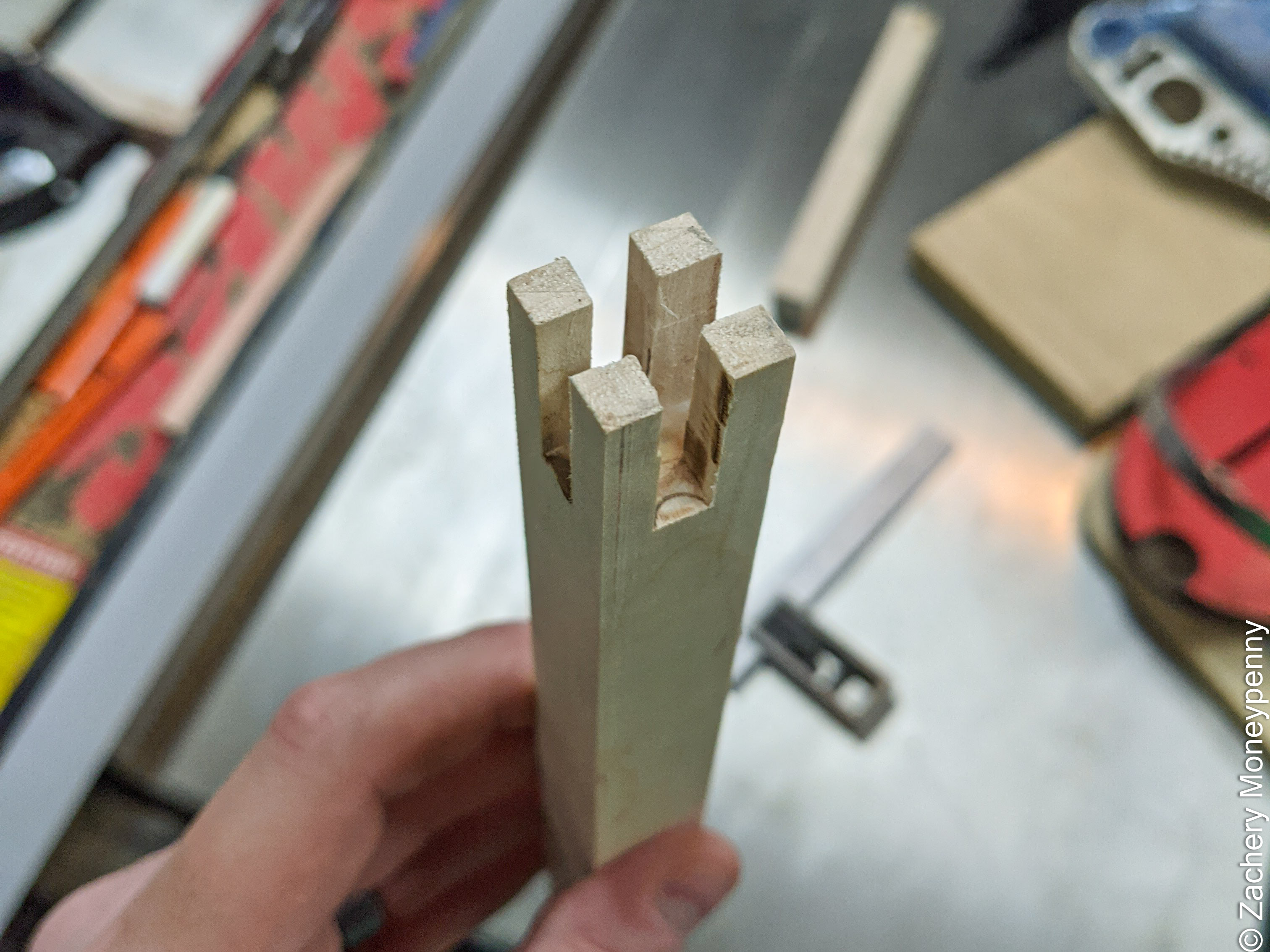 Result from the Shaper Origin cut ends.
The boxes are now assembled and finished with some Watco exterior wood sealer. Once my wife wraps and decorates them I'll update with more pictures of the finished product!
Epilogue
I do need to get to regular posting again, but the flow of project ideas in and completed projects out of the shop have not waned as the pandemic continues to spike higher and higher. I do value this time with the family and in the shop, and try to use my time working on projects to create a calm center.
Happy Thanksgiving to everyone out there!